Liken: David and Goliath
Theatrical Release:
March 1, 2005
DVD Release:
March 1, 2005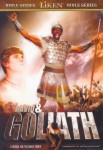 Synopsis
See this fun and moving Bible story (1 Samuel 16-18) as you've never seen it before–through the eyes of Amelia (Lauren Faber), a shy, modern-day girl who has her own personal Goliath to face–a performance in her school's choir concert. To help build Amelia's confidence, her choir teacher (Angela Winston) tells her the story of another young person called upon to do something big–a boy by the name of David.
Featuring original music by Aaron Edson, "David and Goliath" is sure to be a favorite addition to your family's DVD library.
Dove Review
I was uncertain what a musical about David and Goliath would be like. I am pleased to say I was surprised by how good it is. There are some fine performances and memorable songs, such as "The Lord is My Shepherd," sung by the actor who plays David, Spencer Forsey. He sings some other songs with great effect. Daniel Beck gives an energetic and excellent performance while singing, "It's Not Easy Being King." For the most part, the roles were filled nicely.
The one mixed emotion I have is the choice of Daniel Beck as King Saul. He can sing, to be sure, and he does have a few funny moments in the play, but his effeminate King Saul seems out of place in this Biblical story. Saul is described in scripture as a man head and shoulders above other men, and seems to have been a man's man. Possibly the role was written this way to be fair to Mr. Beck. At any rate, this is my only quibble as the play is very well done and a good setting for children and young adults to receive a dramatic rendition of the great story of David and Goliath.
Info
Company:
Lightstone Studios, LLC
Director:
Dennis Agle Jr. and Aaron Edson
Industry Rating:
Not Rated
Reviewer:
Edwin L. Carpenter