Beat the Drum (DVD Only)
DVD Release:
November 20, 2007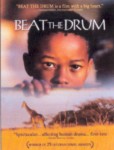 Synopsis
A young, orphaned boy sets out for the big city to find his uncle after a mysterious illness strikes his village. Driven by his determination to survive and growing social awareness, he finds a way to make an honest living and returns to his village with a truth and understanding his elders have failed to grasp. An emotional and timely drama reminding us how one small voice can be the brave start of colossal change – uniting a village, a township and even a nation.
Dove Review
Junior Singo gives a terrific performance in this film as the character of Musa, an African boy whose entire family is being wiped out by AIDS. His mother is dead, and when Musa's father dies, and the family is left without a cow, the boy tells his grandmother he will travel to the city to find his uncle.
Musa encounters many difficulties as he earns a living by washing the windshields of automobiles while they are stopped at traffic lights. He lives life on the streets but a truck driver named Nobe (Owen Sejake) has compassion on the boy and helps him. The fear of the people regarding AIDS becomes something that Nobe realizes needs to be changed, as he tries to figure out a way to educate them. He and a pastor, along with a company owner who just lost his son to AIDS, make HIV testing available and offer hope to the African community.
This drama has some strong moments, but we do note some areas of content which viewers should be aware of. There is an animal sacrifice, a pagan offering of sheep's blood which has been pared down from the original scene but still contains some blood. Also a man hires a prostitute but although the viewer gets the idea he has sex with her, nothing graphic is shown. There is talk in the film of curses and bewitchment but Musa, Nobe, the pastor, and business owner help open the people's eyes to the truth of the seriousness of the HIV virus.
Near the end in a church a really nice scene takes place with the people singing a spiritual song about the Almighty and they sing with great joy. We award our Dove "Family-Approved" Seal to this film for ages twelve and above. Beat the drum and let others know that this touching and enlightening DVD is now available!
Info
Company:
Genius Products, Inc
Industry Rating:
Not Rated
Reviewer:
Edwin L. Carpenter