Becoming Jane
Theatrical Release:
August 10, 2007
DVD Release:
February 12, 2008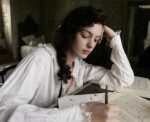 Synopsis
"Becoming Jane" is the story of the great, untold romance that inspired a young Jane Austen, played by Anne Hathaway. Willful and spirited, Jane is not ready to be tied down to anything but her writing. That is until she meets Tom Lefroy (James McAvoy) a charming rogue from London who spends more time drinking and socializing than on his law studies. The film also stars Maggie Smith, Julie Walters and James Cromwell and is directed by Julian Jarrold.
Dove Review
Starring Anne Hathaway, the film examines the effect that Jane Austen's own romances had on her literary works. While the movie at times does seem to parody some of the themes contained in Jane Austen's books, the film is delightfully thoughtful and funny. Anne Hathaway portrays Jane Austen's struggle to balance her career, family, and heart very well – a struggle relevant for many women yet today. The character of Jane is wonderful because she is not only cognizant of her dreams and aspirations, but of the realistic consequences of her actions. In the end, her decision is well thought out and of course, romantic. Unfortunately, the caveat is that strong language prevents us from awarding our Dove "Family-Approved" Seal to the movie.
Content Description
Nudity:
Brief skinny dipping scene of two males from a distance which is not salacious; low-cut dresses on prostitutes; a couple instances of shirtless men.
Info
Company:
Miramax Pictures
Writer:
Kevin Hood and Sarah Williams