Another Perfect Stranger
DVD Release:
September 15, 2007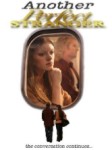 Synopsis
The sequel to the 2006 film, "The Perfect Stranger", begins ten years after the first story ended. Nikki Cominsky's daughter Sarah, now 19 and heading West for college, is at her own spiritual crossroads. To further complicate matters, her mother has recently revealed that, nearly ten years ago, she was the dinner guest of the Almighty Himself. Thinking her mother is certifiably insane, Sarah strikes up an unlikely friendship with a travel companion who shares her disdain for religion.
Dove Review
Nikki's daughter is grown and off to college. Sarah thinks her parents are insane to believe that her mother actually had dinner with the Lord. But now she is engaged in a conversation with a stranger that make her question her thoughts and ideas on faith and beliefs.
As in "The Perfect Stranger", this film will bring the question to the viewer as to what they would do if they could have a one-on-one with the Lord. This film will be enjoyed by all and may start great conversations between generations.
Info
Company:
Kellys Filmworks