Cars Life, A: Sparkys Big Adventure
DVD Release:
August 1, 2007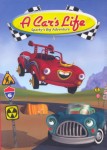 Synopsis
Sparky is a spunky little sports car who can't wait to grow up, but first he needs to learn the rules of the road. Sparky snubs car washes, curfews and speed limits, driving his poor dad to distraction.
So when Sparky races off to set a new speed record at the treacherous Badlands, all bets are off. Will Sparky tune-up his attitude or is this daredevil hotrod headed for the scrap heap?
Dove Review
This film contains many bright colors and movement that will keep your child's attention. It contains some valuable lessons such as It's not nice to judge people just because they look different, and that it is very important for you to obey your parents even if you do not understand everything that they decide. There is one car in the film that smokes, and one of the cars refer to another one as being a fool. Although the film was a little slow moving for adults, it is perfect for young children. We award it our Dove Family-Approved Seal.
Info
Company:
Triumph Marketing, LLC