Carlos Caterpillar #1: Colossal Tales
DVD Release:
January 1, 2009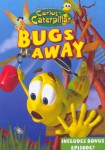 Synopsis
The growing up story of Carlos Caterpillar and the amazing things he learned from his Uncle Pedro. They live in a little place off the coast of Africa, in the Canary Islands, a paradise made up of seven grouped isles with lush vegetation, bright colors and awesome mountains.
Episode 1: "Bugs Away", an exciting sailboat race is about to take place at the Morgan Fair, Carlos Caterpillar and Uncle Pedro have their eye on the prize!
Episode 2: "Colossal Tales", there's a new girl at The Retonitos School and all the bugs are bugstruck! Everyone is looking to impress Lety, the newcomer, and Carlos is no exception. The problems begin when his attempts to make a good impression,
Dove Review
In this Dove-approved film you will find some wonderful brightly colored fun animated bugs who learn some great lessons. This film contains two stories which will teach your children that it is better to give than to receive, and the importance of telling the truth. Also, that one little lie can turn into many lies and make things a lot worse.
This film can be viewed while listening to it in English or Spanish. On the English setting your child will hear several well-known Spanish words, which will allow you to help your child learn those words and use them around the house.