Daddy Day Camp
Theatrical Release:
August 8, 2007
DVD Release:
January 29, 2008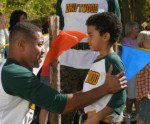 Synopsis
This hilarious sequel to the smash hit "Daddy Day Care" finds dads Charlie Hinton and Phil Ryerson (Cuba Gooding Jr., Paul Rae) in another kid-harried adventure as they take over running a summer day camp. Armed with no knowledge of the great outdoors, a dilapidated facility, and a motley group of campers, it doesn't take long before things get out of control. Up against threats of foreclosure and declining enrollment Charlie is forced to call on his estranged father, Col. Buck Hinton (Richard Gant) to help bring the camp together and teach everyone about teamwork, perseverance and the power of forgiveness.
Dove Review
"Daddy Day Camp" is a film which makes some positive statements about fathers and sons who misunderstand one another but find reconciliation. Charlie Hinton (Cuba Gooding Jr.) and his father, Col. Buck Hinton (Richard Gant), have always had trouble communicating, but when Charlie needs his dad to help keep a camp afloat, the colonel rides into town with his experience, knowledge, discipline and his creative ideas to jump-start the sagging morale of the campers. There is also a nice, "I love you Dad," and "I love you, Son" moment in the movie.
However, there is a lot of crude potty humor in the film. There is no single incident which prevents us from awarding our Dove Seal to the movie. Some of the humor, such as the kids getting back at an arrogant counselor from a rival camp, is overdone humor; as you would see in a cartoon. Still, parents should consult the content chart below to decide if they wish to take their children. There are some good themes in the film, including teamwork and spirit, despite some of the crude moments. Another example of a good theme is a counselor who helps a boy who is embarrassed about wetting the bed.
Info
Company:
Sony Pictures Home Entertainment
Writer:
Geoff Rodkey and J. David Stem and David N. Weiss
Reviewer:
Edwin L. Carpenter