Skinwalkers
Theatrical Release:
August 10, 2007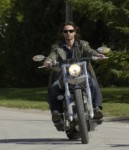 Synopsis
"Skinwalkers" is a horror action film about a 12-year-old boy who suddenly finds himself at the center of a battle between two warring groups of werewolves. One group of werewolves is sworn to protect him, the other group is trying to kill him — and the young boy's mother has to find out why her son is at the center of the conflict before time runs out.
Dove Review
There are some interesting plot revelations involving family during the course of this film. And Matthew Knight, the kid who plays Tim, does a first rate job, as does Sarah Carter who plays Katherine, and Elias Koteas as Jonas. But I must confess there were times when the werewolves seemed so absurd it was difficult not to laugh. On the other hand, some of the scenes would no doubt be genuinely frightening to some viewers. The torture scenes were not fun to watch.
At any rate, although there is violence and language in the film, the two things which prevent us from awarding our Dove Seal to this movie for family viewing, the language wasn't as frequent as I thought it would be. Still, that can't be considered a great compliment. I suggest when you next attend the theater during a full moon, you watch something else, like "Underdog," which was awarded our Dove Family-Approved Seal.
Info
Writer:
James DeMonaco and Todd Harthan and James Roday
Reviewer:
Edwin L. Carpenter