George and the Dragon
Theatrical Release:
August 26, 2006
DVD Release:
August 1, 2007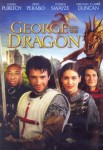 Synopsis
George, a handsome knight, tired from battle desires to hang up his sword and settle down to a quiet, peaceful life. Upon his return to England, George heads north where the land is good and ruled by a kindly king named Edgaar. Unfortunately he finds King Edgaar in a terrible state. His beautiful daughter Lunna has recently disappeared. In return for a small plot of land, George agrees to search for Princess Lunna and sets out with King Edgaar's faithful servant, Elmendorf. But what is unveiled is more that anything George could have imagined.
Dove Review
As a Knight who just wants to settle down, George finds himself in an adventure that is beyond his belief. As in most stories about old England this has all the main elements including a king, a princess, knights, sword fights and, unless we forget, the dragon. As this adventure unfolds, you will be laughing at times at the comedy of some of the characters.
We need to make the audience aware that this movie about knights has all the elements that go into this genre, so please consult the content description below. If you enjoy this type of movie grab the popcorn and gather the family to watch this "Family-Approved" movie, which we have awarded our Dove Seal.
Info
Company:
Triumph Marketing, LLC
Writer:
Michael Burks; Tom Reeve