The Ransom of Red Chief
DVD Release:
August 16, 1998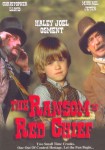 Synopsis
In this uproarious action-comedy, two bumbling ne'er-do-wells, Sam and Bill, kidnap
Andy Dorset, the mischievous nine-year-old son of Ambrose Doraet, a pompous banker and civic leader. Andy is convinced by the duo that he is involved in a madcap adventure and pretends to be Red Chief, a fierce Indian warrior. Andy is known for his wild imagination, so when his father received a Ransom note for only $47.50, he thinks it's a prank. But when two dangerous convicts escape from prison, Andy may finally be in real danger…
Dove Review
An attempted mixture of comedy and drama, "The Ransom of Red Chief" doesn't seem to quite make the cut. The "comedy", both vocal and physical, wasn't smooth, but instead seemed quite forced and scripted. The story was a good idea, but with such things as a man getting hit in the face with a cast iron pan and repeated words like "Mongolian whore," I had difficulty finding much humor in it.
The main character was a bratty little boy who showed complete disrespect for his parents throughout most of the movie. In the end he seemed sorry, but it was tough to watch him in the lead role. But he does show regret and so "The Ransom of Red Chief" does earn the Dove Family-Approved Seal.
Info
Company:
Triumph Marketing, LLC
Writer:
O. Henry and Ed Naha
Producer:
J. Boyce Harman, Jr.
Starring:
Haley Joel Osment; Richard Moll; Kaitlin Hopkins; Alan Buck; Michael Jeter; Christopher Lloyd