20,000 Leagues Under the Sea
Theatrical Release:
March 23, 1997
DVD Release:
March 23, 1997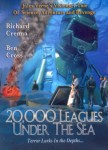 Synopsis
A mysterious monster is terrorizing the Alantic Ocean and famous marine biologist Professor Aronnax is summoned to investigate the disturbance. Accompanied by his daughter Sophie, the two trail the monstrous creature. However they are astounded to discover that the beast is actually a futuristic submarine captained by the eccentric Captain Nemo.
Our adventurers board the vessel only to discover an underwater world of revenge and bitterness. Soon they find themselves hostage under the waves and must use all of their cunning and expertise to escape the clutches of their menacing host or risk losing their lives to the ocean.
Dove Review
After years of falsely assuming that "20,000 Leagues Under the Sea" was a boring, hard-to-enjoy movie, I was pleasantly surprised when I actually sat down and watched it! The acting was a little bit hokey in a part or two, but overall, the storyline was clever, captivating and even suspenseful! Add to the mix the beautiful underwater footage, and one can see why it has been dubbed a classic.
A few scenes showed men smoking cigars and drinking wine, but they were not highlighted by any means. A couple of kisses were in the story but they were not in bad taste. Overall, "20,000 Leagues Under the Sea" was a great watch and earns the Dove Family-Approved Seal.
Info
Company:
Triumph Marketing, LLC
Writer:
Jules Verne (novel); Joe Wiesenfeld
Starring:
Richard Crenna; Ben Cross; Julie Cox; Michael Jayston; Paul Gross;