Strawberry Shortcake: The Sweet Dreams Movie
Theatrical Release:
December 1, 2006
DVD Release:
December 1, 2006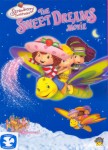 Synopsis
Join your berry best friend, StrawberryS hortcake, and her favorite pals in this feature-length story that's filled with great songs, lots of fun and fantastic adventures!
Oh, no! Not only does "The Peculiar Purle Pieman from Porcupine Peak" claim to own all the berries in Strawberryland, but he's announced his plan to steal everyone's dreams! So Strawberry and her pals go to dreamland to try to rescue their dreams. In the process, they learn that in order to believe in your dreams, you must believe in yourself.
Dove Review
Adorable Strawberry Shortcake and her friends always have an encouraging story to tell your youngsters. This colorful tale takes everyone on a adventure into the world of dreams. While in dreamland the friends find the importance of believing in yourself and that if you do, you can achieve your dreams.
As with any of the Strawberry Shortcake DVDs, this one gives the kids a learning experience though an entertaining story and wonderful music.
Info
Company:
20th Century Fox Home Ent.