The Star of Bethlehem
DVD Release:
October 23, 2007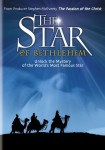 Synopsis
Scholars debate whether the Star of Bethlehem is a legend created by the early church or a miracle that marked the advent of Christ. Is it possible that the star was a real, astronomical event?
From producer Stephen McEveety (The Passion of the Christ) and distributed by Genius Entertainment comes an amazing documentary on the Star of Bethlehem. This presentation, as seen by tens of thousands in the U.S. and in Europe, explores the exciting truth of scripture and reveals the evidence for God's existence as seen in the stars above. Presenter Rick Larson walks you through biblical and historical clues revealing the incredible significance of this celestial event as well as the vastness of God's creativity. Discover the secret of the star-a secret of magnificent beauty.
Dove Review
This documentary is fascinating and meticulously researched. Frederick A. Larson, a lawyer, became interested in the history of the star of Bethlehem, and did extensive examining of the facts. He relied on biblical texts, Jewish historians such as Josephus, and astronomers and constellation experts such as Johames Kepler and Copernicus. Using astronomy software, he went back in time to the period in which the Eastern Star would have been viewed in the sky, and he began piecing together his findings. This DVD makes use of fantastic graphics and illustrations and sound teaching. The viewer may be shocked to learn some of Larson's findings, which solidify and do not contradict biblical teachings. Larson illustrates how a star could be bright and stop over a specific location. He also attempts to narrow down just exactly what kind of star it was: A comet? A nova? He makes some interesting comments regarding the star known as "Messiah's Star." He concludes with some reliable scientific facts about the history of the stars during the time of Christ's crucifixion.
The video opens with an on-screen scripture taken from Psalms, chapter nineteen: "The heavens declare the glory of God, and the sky above proclaims his handiwork." We gladly award five doves to this exemplary program. Website: http://www.bethlehemstar.net
Info
Industry Rating:
Not Rated
Reviewer:
Edwin L. Carpenter