Journey To Spirit Island
Network Premier:
June 15, 1991
DVD Release:
April 7, 1993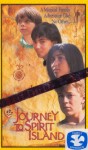 Synopsis
Set against a breathtaking Pacific Northwest backdrop, " Journey To Spirit Island" is a suspense-filled adventure that will keep the whole family on the edge of their seats!
It starts as just an ordinary summer for Maria and her brother, Kjim, young members of the Makah Indian tribe. But when two city friends come to visitm the foursome begins an adventure that will change their summer and their whole lives. Their final, daring excape from danger is a magnificent journey you'll want to see again and again!
Info
Company:
A Pix Entertainment
Industry Rating:
Not Rated