War
Theatrical Release:
August 24, 2007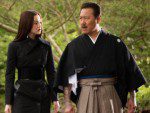 Synopsis
After his partner Tom Lone (Terry Chen) and family are killed apparently by the infamous and elusive assassin Rogue (Jet Li), FBI agent Jack Crawford (Jason Statham) becomes obsessed with revenge as his world unravels into a vortex of guilt and betrayal. Rogue eventually resurfaces to settle a score of his own, igniting a bloody crime war between Asian mob rivals Chang (John Lone) of the Triads and Yakuza boss Shiro (Ryo Ishibashi). When Jack and Rogue finally come face to face, the ultimate truth of their pasts will be revealed.
Dove Review
When an FBI agent's partner and his partner's family are murdered, the agent seeks revenge. At least, that's what this film seems to be about, until a plot twist is revealed in the last ten minutes that makes the previous hour and 20 minutes seem totally nonsensical. I won't reveal what happens, but it involves facial reconstruction surgery and the sudden, magical appearance of a heavy Chinese accent. Before the surprise ending, we had a film driven by testosterone instead of good acting and a plot. After the surprise ending, we get the same badly acted, badly edited testosterone-fest, only now the main character's motivation to act is taken away, leaving no rhyme or reason to anything that has happened thus far. Almost comically, "War" somewhat tries to have a pro-family message: ruthless killers, yes; but we draw the line at killing women and children. Somehow, I don't buy this, not even a little bit; especially when it's packaged within a super-violent action movie. Are viewers supposed to be touched by this? And, if all of this isn't enough to turn you off from seeing the film, the way all Asians are grouped together is bothersome. The film portrays two rival Asian gangs, one Chinese, the other Japanese. However, there is one actor who is obviously Japanese, playing a Chinese gangster. Also, a Chinese man (Jet Li) is supposed to be working for the Japanese gang. Anyone familiar with Japanese culture would find this unbelievable. In this film, "Asian" seems to indicate one culture, even though China and Japan are very, very different.
Ultimately, if you're not turned off by the gratuitous violence and language, be advised that "War" is just not a good movie, and find something else to watch this weekend.
Info
Writer:
Lee Anthony Smith and Gregory J. Bradley
Reviewer:
Samantha Vandersloot