Bring Him Home
Theatrical Release:
February 20, 2007
DVD Release:
February 20, 2007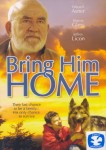 Synopsis
When tough street kid Ricky Horvath loses his beloved dog Buddy to a syndicate of vicious dognappers, he must turn to the one man he cannot forgive: his estranged grandfather, police detective Geza Horvath.
Wanted for a crime he did not commit, Ricky must escape the clutches of the law and find his adored companion before the dog is subjected to horrible medical testing. Presented with an opportunity to reunite his divided family, Geza must decide whether to risk his freedom and peaceful life to help his hostile and devastated estranged grandson.
Dove Review
Sometimes families are separated because of personal feelings that carry on to different generations. Geza and Ricky are in that situation as a grandfather and grandson. It is important for them to find their way back to each other. In the midst of this thrilling story Ricky's dog, Buddy, is taken by a local con man who accuses Ricky of having a gun. Geza and Ricky have to come to terms with their feelings if they are going to help find Buddy.
I recommend this movie to family members 12+ due to some parts that may be too intense for young children.
Info
Company:
Triumph Marketing, LLC
Industry Rating:
Not Rated