Balls of Fury
Theatrical Release:
August 29, 2007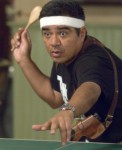 Synopsis
In this outrageous new comedy, a former ping-pong champ is brought in by the government to infiltrate a high-stakes underworld tournament and bring down the organizer, a feared crime boss.
In this secret society, the competition is brutal and the stakes are high. It is the unsanctioned, underground, and utterly unhinged world of clandestine Ping-Pong tournaments. Down-and-out former professional Ping-Pong phenom Randy Daytona (Dan Fogler) is sucked into this maelstrom when FBI Agent Rodriguez (George Lopez) recruits him for a secret mission. Randy is determined to bounce back and win, and to smoke out his father's killer – arch-fiend Feng (Christopher Walken).
Dove Review
Randy Dakota has to rejoin the competitive sport of ping pong to bring down the man who killed his father nearly twenty years earlier. This is much as you would expect from a film with this type of title as the humor was mostly sophomoric in nature. It was full of sexual innuendo, discussion of prostitution (male and female), and jokes about ping pong balls. There was also a surprising amount of action throughout the film. The film reminded me of a spoof on all the great sports films out there.
This film did not receive a Dove Family-Approved Seal due to the sexual references, language, violence and constant drinking, which were continuous throughout the movie.
Info
Writer:
Thomas Lennon and Ben Garant