Liken: Daniel and the Lions
DVD Release:
September 12, 2006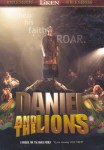 Synopsis
When his parents go on a trip, 6-year-old Devin (introducing Isaiah Smith) is too sad to say his prayers. To help him understand the importance of praying, Devin's grandpa (Frank Gerrish) tells him the story of Daniel and the Lions. Devin's imagination brings to life the story of Daniel and a trio of villains who do everything they can to get rid of him. When they convince King Darius to sign a decree that would put anyone who prays into a den of lions, an undaunted Daniel continues to pray not once, but three times a day. As Daniel faces the mighty Rex and six other very hungry lions, he discovers just how important prayer can be.
The whole family will enjoy this musical journey, and together can rediscover this treasured story from the Liken Bible Series. It is packed full of fun and uplifting musical retelling, featuring all new original songs.
Dove Review
This biblical musical begins with a six-year-old named Devin becoming sad when his parents leave on an anniversary trip. To cheer Devin up, his grandfather (Frank Gerrish) speaks to him about praying. He tells him the story of Daniel and the lions. There are some great musical numbers in the film including a song by the lions (played by actors) called "Meat's on the Table Tonight!" George Dyer, who plays King Darius, is outstanding as both an actor and a singer. He sings a nice song along with Daniel (Casey Elliott). There is humor added in this stage production but it stays fairly close to the biblical account. We award it our Dove Seal for all family members.
Info
Company:
Lightstone Studios, LLC
Director:
Dennis Agle Jr. and Aaron Edson
Reviewer:
Edwin L. Carpenter