Reminisce: The 1940s – 3 Disc Set
DVD Release:
September 1, 2007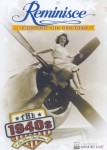 Synopsis
The 1940s – Our Stories. Real History. A pivotal decade in American history has been captured in a unique, new way through personal stories, photos, and home movies submitted by everyday Americans. Enjoy this amazing, inspirational journey crafted by the editors of Reminisce and the filmmakers of The Memory Lane Company.
Disc 1 – The Decade(1 hour):An entertaining, hour-long documentary featuring personal stories, photos, and home movies contributed by Reminisce readers. Hosted by Clancy Strock. Disc 2 – Our Photos (2+ hours): A video scrapbook of 1,200 vintage images, plus 10 narrated slide shows. More than two hours of memory-provoking viewing time. Disc 3 – Our Stories (3+ hours): Join 21 Reminisce readers as they reflect on the 1940s during more than three hours of on-screen conversation.
Dove Review
"REMINISCE -THROUGH THE DECADES" Narrated by Clancy Strock, writer of the "I KNOW – I WAS THERE" column in Reminisce magazine, this three disc DVD set proves to be a true pictorial showcase of life in the 1940's. Disc 1 "THE DECADE" Disc one has vignettes of people who actually, lived during the 1940s. They tell short stories about what life was really like in that era. Radio was king and they speak fondly of all the popular radio theater shows. From the conflicts endured in WW II to the carefree days back home, we get a clear picture of what life was like for that generation. Disc 2 "OUR PHOTOS" This DVD is broken into ten separate chapters: Front Lines, Home Front, What We Wore, At Work, At Play, In Love, Driving, Shopping, At Home, and At Ease. Each of these chapters starts with a brief description of the topic, then it's like opening a myriad of photo albums and taking a walk down memory lane while listening to classic 1940s style music. Disc 3 "OUR STORIES" This disc, too, is broken into chapters: A Word, Home Front, In Love, Shopping, At Work, At Play, Boom Years, What We Drove, Where Were You?, Our Storytellers, and Meet Roy Reiman. Twenty or so storytellers share their memories of life in the 1940s. And, while some of it is duplicated form the previous discs, there is a lot to learn form these people. They speak of family life, war rations, community cooperation, the ethic of hard work, and so much more. We see the clothing styles worn, we hear first hand accounts of fun and leisure, strong family values, and so many things from which we could learn in our own day and age. This series, "REMINISCE-THROUGH THE DECADES" is a wonderful history lesson of our nation and its people. We award these DVDs 5 DOVES, while noting they may be a bit tedious for young viewers.