The First Christmas
DVD Release:
November 21, 2005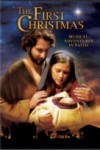 Synopsis
When Amelia's parents decide to share their Christmas with a family in need, she has a hard time figuring out if she should do the same. Though hesitant to join in at first, Amelia discovers the true spirit of Christmas through the stories of Mary and Joseph, Elizabeth and Zacharias, and a pair of shepherds named Sharif and Omar.
Watch the Christmas story as you've never seen it before, through the imagination of a young girl who discovers for herself the true meaning of Christmas. Featuring all original songs, this heart-warming musical is perfect for families of all ages.
Dove Review
The music alone makes this one fantastic DVD to listen to and watch. It has a great story too as it ties together the original Christmas story and the birth of Jesus along with a modern story. A blessed family learns of another family who won't have any gifts for Christmas, due to the father's long stretch without work. A man and his wife decide to give away their Christmas presents to the family, but their daughter has a difficult time with the idea.
The father tells his daughter about the birth of Jesus. This leads to some fantastic traditional Christmas carols which are sung by the various actors who play Mary and Joseph and Gabriel, as well as the shepherds and others. A couple of the outstanding songs include "A Hand to Hold," and Mary's song "The Handmaid of the Lord." Also, "Joy to the World" and "Silent Night" are included. Along with some nice bonus features, including a gag reel and a musical re-telling of the first Christmas, this is one DVD we can easily award our Dove Seal to. It has a nice humorous ending to boot.
Info
Director:
Dennis Agle Jr. and Aaron Edson
Reviewer:
Edwin L. Carpenter