Liken: Esther and the King
DVD Release:
March 21, 2006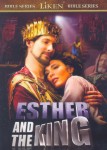 Synopsis
When a modern-day girl named Amelia faces a big challenge in her life, her mother teaches her about the power of fasting by sharing the story of a heroine from the Bible. Esther, an orphan raised by a relative named Mordecai, is chosen from all the maidens in the land to become queen. While becoming a queen is where most fairy tales end, this is just the beginning of the true story of this courageous woman who must risk her life to save her people from a treacherous plan of the charmingly wicked prince Haman. Through reliving the story of Esther, Amelia gains an understanding of the power of fasting and how it can help her learn courage.
Your whole family will enjoy this musical journey into Amelia's imagination as she brings to life the amazing story in this episode of the Liken Bible Series. Featuring all new original music, this is a story that will tickle your funny bone and touch your heart.
Dove Review
Summer Naomi Smart does a very competent job as Queen Esther in this production, which is filmed like a play. Smart can act and sing and slips comfortably into her role as the Jewish queen who dared go before the king on behalf of her people. The character of Haman is played a bit more for laughs than he should be, but the actor is a competent singer as well and he adds some comedic relief to the film.
Dallyn Vail Bayles, who plays the king, is a good singer himself and has a good on-screen chemistry with Smart. The songs, as in these other Liken productions, are memorable and very enjoyable to listen to. A few of the stand-out songs include "Together," and "It's Great to be the King."
This DVD also includes some bonus features, one of which is a gag reel. We gladly award our Dove Seal to this film and we award it five doves, the most we can give it.
Info
Company:
Lightstone Studios, LLC
Director:
Dennis Agle Jr. and Aaron Edson
Industry Rating:
Not Rated
Reviewer:
Edwin L. Carpenter