Squad 77
DVD Release:
September 25, 2007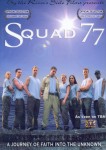 Synopsis
Is Squad 77 just a story or is there more to it that that? Who is Squad 77 and do they really exist? What do they do? The mystery surrounding this legendary Squad comes to life as Allen Davis and ex-military man trains the elite Squad, along with Byron. They will be forced to train a group of misfits for a highly dangerous and secretive mission. Can they be prepared to lead such a charge on short notice? Will they be able to pull together when reality sinks in? To survive they must learn to trust each other and rely on God. This fast paced action movie will have your heart pumping to the very end.
Dove Review
There are fourteen young adults who attempt to be accepted into an elite group of seven on a leader's missionary team. The mission will be dangerous and the group undergoes some serious physical training in order to prepare. The team is pared down to seven and they take on the mission. It winds up being a bit more dangerous than they anticipated as they are challenged by some militant drug pushers.
The film does seem to linger on the training aspect a bit much, but later when they face the challenges of opponents, the group is ready. A girl on the team who doesn't know what she really believes is converted in a nice scene. The film does make one think and the content is wholesome and we award the movie our Dove Seal.
Info
Company:
Pheonix Entertainment
Industry Rating:
Not Rated
Starring:
Jeff Howard
,
Scott Robinson
,
Josh Traux
,
Jason Bailey
,
Nicole Smith
,
John Symonds
,
Mindy Byram
,
George Moss
,
Mandy Garrett
,
Aaron Goben
,
David Torres
Reviewer:
Edwin L. Carpenter