Alice in Wonderland – Family Classic
Theatrical Release:
December 8, 1985
DVD Release:
December 1, 2006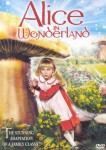 Synopsis
The Incredible all-star version of the unforgettable tale. Sometimes she's too big. Or much too small. Sometimes things are backwards and there's always too much pepper in the soup! Nothing is quite right since Alice chased the very unusual White Rabbit and stumbled into an adventure that grows curiouser and curiouser. This is one of the greatest childhood fantasies captured in Irwin Allen's colorful production adapted from Lewis Carroll's "Alice's Adventure in Wonderland". The stellar cast features dozens of Hollywood's biggest names, including Red Buttons, Sammy Davis, Jr. and Beau Bridges. The legendary Steve Allen wrote the jolly, witty songs. Alice is looking for a way home. And happy to be welcomed into yours.
Dove Review
Alice wants to know when she'll be grown up enough to have tea with the other grown-ups so she asks her sister. They talk a little while and the sister goes on reading. Much to Alice's surprise, the White Rabbit (Red Buttons) appears absolutely fretting about being late. Alice gives chase as the rabbit runs off but falls down the rabbit hole. She continues running through the underground tunnels after the rabbit and her adventures begin.
Alice talks and dances with a magical caterpillar (Sammy Davis, Jr.) and meets a disappearing Cheshire Cat (Telly Savalas). She attends a tea party with a mad Mad Hatter (Anthony Newley), an obnoxious and extremely rude March Hare (Roddy McDowall) and a sleepy mouse (Arte Johnson). Alice even plays croquet with the Queen of Hearts (Jayne Meadows). Alice wakes up in the meadow where she had fallen and runs home, only to discover she is on the other side of the mirror and no one can see nor find her. What wonderful stories she'll have when… if… she ever gets back to her real home. We award "Alice in Wonderland" five doves. We want to note that a few scenes of disrespect are included in the film.
Info
Company:
Sony Pictures Home Entertainment
Writer:
Lewis Carroll (novels) Paul Zindel (teleplay)
Industry Rating:
Not Rated