Sara and the Starfish
DVD Release:
September 1, 2007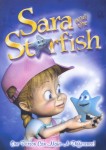 Synopsis
For generations, the story of "The Child and the Starfish" has won the hearts and minds of people around the world with its simple yet inspiring message that "one person can make a difference." Now this timeless fable magically comes to life in the enchanting and heartwarming story of "Sara and the Starfish."
Sara loves spending summer vacation with her family at their cottage by the sea. But when a violent storm washes a baby starfish up onto the shore, Sara discovers that their paths are destined to cross in a profound way. It will take the combined efforts of Sara, her brother Josh, their friend Toby, and their faithful dog Flagg to save the tiny starfish from tragedy.
Dove Review
"Sara and the Starfish" is a sweet and comical movie about friendship. This movie was done in 3D computer animation and the little starfish in the film are so cute that I just wanted to pick up the starfish and hug them. The movie had some funny parts that made me laugh out loud. The film stressed that working together and having good friends can really make the difference. Sara, the main character in the film, becomes friends with Baby Bloo, a young starfish, and helps him by saving the other starfish that wash up on shore. The movie has good themes and good lessons to learn. I would recommend this to children and adults of all ages, and we at Dove award it the Dove Seal.
Info
Company:
Grand Design Productions
Industry Rating:
Not Rated