Father Christmas
DVD Release:
October 24, 2006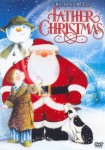 Synopsis
Deck the halls with the sounds of laughter when you join the hardest working man in snow biz as he takes a well-deserved vacation. He converts his sleigh into a trailer, hitches it to the reindeer and flies off into the sky for a globe-hopping vacation!
Dove Review
This movie is based on the children's book by Raymond Briggs, which was published in 1973. Times were different then and this DVD would probably be a bit different if made in today's world. It is basically a story about Father Christmas and how he spends the other 364 days a year when he is not bringing joy to girls and boys all over the world. He drinks tea and mows the lawn and plays with his pets. In addition, Father Christmas takes a vacation and while relaxing, he is shown briefly drinking, smoking, and relaxing in the bathtub. To the filmmakers credit, the soft and warm colors and scenes of snow falling make for a very nice visual experience.
There are some nice lines of dialog too. For example, Father Christmas says, "It may not be easy but I love my job and all the little children." He puts a turkey in the oven and looks forward to the next Christmas as he looks over his Christmas list. In a funny scene, he reads one letter from a child and says, "A monkey? Wonder what here parents would think about that." He does gamble a bit at a casino as well but there are plenty of warm, touching moments in this film for the viewer, including a song titled "Thank you Father Christmas" at the conclusion. We award our Dove Seal to this DVD.
Content Description
Drugs:
Father Christmas is scene drinking martinis and wine. He is also seen smoking a cigar. Another brief scene of drinking at a party.
Nudity:
Father Christmas' rear is seen very quickly in one instance as the wind blows up the back of his shirt but it is innocent. He is also shown in the bath tub. At the pool, ladies are seen wearing bikinis and Father Christmas is seen wearing swim trunks.
Info
Company:
Sony Pictures Home Entertainment