June in Springdale
DVD Release:
October 28, 2007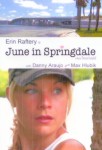 Synopsis
June is a fabulous cook and an impetuous romantic who believes in love at first sight. While shopping at a gourmet food store she meets David, the man of her dreams, only to find out he is leaving town to move back home. June follows him and winds up taking a pet/house sitting job in his hometown as she hopes to win his heart. Things get complicated however when the homeowner's son Steven arrives for an unexpected visit.
Dove Review
Young actress Erin Raftery is the one who propels the story of "June in Springdale." She is a likable actress who holds the film together as she falls for a young man who is not all that he appears to be. She has some difficult choices to make in the film, including a choice of forgiving more than once. She does a nice job in the role. This film is family-friendly and best suited for those ages twelve and above due to the dating theme.
For those who enjoy a little romance, this film will in particular appeal to you. The film has some nice camera work as well, including a shifting of a scene from night to morning which is seamlessly accomplished. There are some nice in-the-car driving scenes which make you feel as if you are in the car as a passenger. And there are some nature shots which are enjoyable to view. The director did a nice job with these scenes.
The film includes some humor, such as a character trying out some of June's experimental recipes which he finds in the refrigerator. His reaction and facial expressions are funny. We are pleased to award our Dove Seal to "June in Springdale."
Info
Company:
Saguaro Productions
Reviewer:
Edwin L. Carpenter