Its A Big Big World: Investigate Your World
DVD Release:
October 1, 2007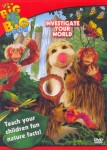 Synopsis
Join in the adventures of Snook, the charismatic sloth who lives in the World Tree with his colorful animal friends! Together they investigate the world around them and discover how different things live, grow and change. It's a Big Big World. Geared toward preschoolers, It's a Big Big World opens up the world of science and the environment for kids and their parents, emphasizing the joy of discovery, while providing viewers with a relaxed, Zen-like guide in a giant sloth named Snook. Teach your children fun nature facts!
Dove Review
This DVD is a compilation of five episodes from the children's television show "It's a Big, Big World". The puppet characters are endearing as each one has its own personality and quirks that range from a worrisome anteater to a pair of hyper-active monkeys. The quality is superb and the lessons about nature and the environment are wonderful.
This DVD has four stories that 'investigate the world'. A few include: the water table, weather, sunshine and sunflowers. The only item to note in this DVD is a scene where two characters are doing Tai Chi. There isn't much said about it other than the slothful feeling better afterwards. Dove happily awards "It's a Big Big World: Investigate Your World" the "Dove Family-Approved Seal".
Info
Company:
Sony Pictures Home Entertainment