The Berenstain Bears: Fun Lessons to Learn
DVD Release:
September 25, 2007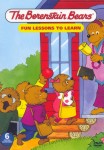 Synopsis
Fun Lessons to Learn includes the following six episodes: Trouble At School: Brother learns a lesson he never expected when he neglects his schoolwork while he's sick and has to explain a bad grade to Mama and Papa. Go To School: After teasing from Too-Tall and the gang, Sister is worried about starting third grade, but Brother and Mama come to the rescue. The Homework Hassle: Brother's fallen behind in his homework and now Papa has to take strict measures until Brother learns new study habits. Lend A Helping Hand: Brother and Sister get a lot more than they bargained for when they offer to help Widder Jones on a Saturday. Too Much Pressure: The Bears are too busy for their own good. Now they have to find time for thie things they really want to do. The Trouble With Pets: Brother and Sister get a new puppy, but are they ready for all the new responsibilities?
Dove Review
"The Berenstain Bears" are wonderful role models for your young children. The Bears come across some problems that I am sure you will relate to-they always think things through and figure out the best way to handle the situation. Brother and Sister are very respectful to each other and their parents. In the DVD of "The Berenstain Bears:Trouble with School" you will see 6 episodes dealing with issues on school, lending a helping hand, pets and slowing down. All of which are great for your child to learn from. Dove proudly awards The Berenstain Bears the Dove Seal for all ages.
Info
Company:
Sony Pictures Home Entertainment
Writer:
Stan and Jan Berenstain