Play with Me Sesame: Playtime with Grover DVD and CD-Rom
DVD Release:
October 1, 2007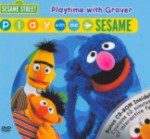 Synopsis
Time to play with Grover and his friends! Dance the Groverelli, join in on "Super Grover Says", and enjoy many more playtime activities. With the help of Bert, Ernie, Prairie Dawn, and other Sesame pals, Grover encourages preschoolers to engage in interactive play while learning fundamental concepts such as opposites and size relationships. Play with Me is like a personal play date with a young child's favorite Sesame friends. Games and activities promote play and participation that help preschoolers to learn social, cognitive and emotional skills while having fun.
Requirements for Bonus CD-Rom: Windows: intel Pentiumii 450 MHz or faster processor, Microsoft Windows 98 or higher, 128MB of Ram. Flash Player 8. Macintosh: PowerPC G3 or faster processor. Mac OS X v..10.1x or higher. 128MB of Ram. Flash Player 8.
Dove Review
"Play with me Sesame: Playtime with Grover" is a wonderful DVD that features many of the beloved Sesame Street characters with the spotlight on our furry pal-Grover. Nearly every "skit" either features Grover or mentions him and as a result, even adults can't help but chuckle at his quirky, eccentric personality. There is one skit where Cookie Monster says "What the Heck", but true to form, this Sesame Street presentation is top quality.
Along with this DVD comes a CD-Rom filled with videos and games for kids to enjoy. If your child is familiar with the Sesame Street website, a majority of the nine games will be recognized as they are also featured on the site. Along with the games are twelve mini videos that go hand-in-hand with the segments on the CD-Rom: Greetings from Grover, Food-O-Rama, and Let's Dance. The only semi-annoying thing about the CD-Rom was that the videos were quiet and then the games in between were really loud. It was a bit of a volume game.
Both the DVD and CD-Rom are high quality, educational and full of fun. Dove easily and happily awards "Play with me Sesame: Playtime with Grover" the Dove Family-Approved Seal for family-friendly viewing.
Info
Company:
Genius Entertainment