Thou Shalt Laugh – The Deuce
Theatrical Release:
October 23, 2007
DVD Release:
November 6, 2007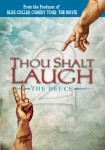 Synopsis
The laughter doesn't stop in THOU SHALT LAUGH 2: THE DEUCE as comedy legend and Emmy Award-winning writer/actor Tim Conway (The Carol Burnett Show) hosts an uproarious night of stand-up comedy featuring some of the most talented artists working in show business today. Maybe the funniest thing of all is that the comedians are Christians!
Returning performers and audience-favorites Taylor Mason and Thor Ramsey are joined by TSL2 newcomers Saturday Night Live's Victoria Jackson, Bone, and Dan Nainan. These five world-class comedians, together with Tim Conway, deliver hysterical routines that are anything but routine. Their humor cuts across all demographics of age, race and gender – and no topic is off limits! Host Tim Conway stated, "After seeing the first Thou Shalt Laugh, I felt honored when the producers approached me to host THE DUECE. Throughout my career, I have always kept my act clean so it pleases me no end to see this next generation leaning in that direction as well. What's more, these comedians are incredibly funny – which is a good thing, because really, who wants to see comedians that stink?"
The success of the first Thou Shalt Laugh cannot be debated. Having outsold every other Christian comedy DVD, the producers of Thou Shalt Laugh (Blue Collar Comedy Tour: The Movie) didn't hesitate at the chance to make THOU SHALT LAUGH 2: THE DEUCE. Capitalizing on the Holiday '07 marketplace, the DVD will be marketed across all mediums exclusively by Grace Hill Media, the leading Christian entertainment marketing firm in Hollywood. If you are looking for funny, your prayers have been answered!
Dove Review
They say laughter is the best medicine. If that's true then sit down and be prepared to feel better as this video will have you laughing until your sides hurt and tears are running down your face. The fun begins with a performance by the classy Tim Conway who opens the show and introduces each act. In addition to Conway the live audience is treated to five comedians, each bringing a unique perspective and highly original material.
I was lucky enough to experience this show with my family members representing three generations. There was something there for everyone to enjoy. Best of all I didn't have to cringe at off-color language or innuendos. I could simply enjoy a good laugh and marvel at these intelligent comedians who have chosen the high road. Anyone watching this video is all the better for the choice.
Very young children may not get the sarcastic nature or subtlety inherent in stand-up comedy, so I would urge you to read the content cautions below and consider your audience before watching. The Dove Foundation is proud to award the Family-Approved Seal to "Thou Shalt Laugh -The Deuce". It is clean comedy at its finest!
Info
Company:
Grace Hill Media