The Longevity Secret: Is Noahs Ark the Key to Immortality?
DVD Release:
October 1, 2007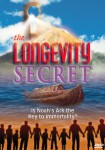 Synopsis
According to the Bible, ancient people lived not just several decades, but several centuries. Could it be the secret to amazing longevity is about to be rediscovered? Might the quest to uncover the remains of an ancient wooden ship high atop Mount Ararat hold the key? Could this ship be Noah's Ark? Find out, in "The Longevity Secret."
Exclusive DVD Bonus Features
• Beneath the Snows of Ararat: Eyewitness Accounts of the Ark
• The Ark and the Ancients: Stories of the Ark from Across the Globe
• Recreating Noah's Flood: Can Scientists Show Us How it Happened?

• Message from the Past: Archaeological Evidence of Noah's Flood

• Secrets of Noah's Ark: Expanded Expert Interviews
Dove Review
This documentary is a fascinating experience to view. This DVD will take you on a great adventure about the amazing Ark through the interviews, facts, and the biblical account. Varying points of the great boat are scrutinized. Many experts are interviewed and archived footage of those who have gone before is shown. The data seems to indicate a favorable genuine discovery. The viewer can decide for himself/herself. This is well worth viewing for the entire family. Five Doves for this very interesting DVD.
Info
Company:
Grizzly Adams Prod., Inc.
Producer:
Charles E. Sellier and David Balsiger
Industry Rating:
Not Rated