Mrs. Palfrey at the Claremont
DVD Release:
October 1, 2007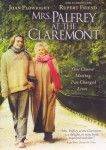 Synopsis
Mrs. Palfrey , an elegant, genteel widow, has come from Scotland to London to take up residency at the Claremont Hotel. Though She had high hopes for the cosmopolitan pleasures of living in the big city, such as attending lectures and concerts, as well as making a wider assortment of acquaintances, she is soon filled with a sense of uneasiness and slight gloom as shen surveys her drab surroundings at the Claremont. The only bright spot in her decision to come to London is the fact that she will be closer to her only grandson, Desmond.
Dove Review
This film in my opinion seemed like something that you would watch on PBS. This movie has enjoyable moments and it reminded me of my grandma and her taste in films. This movie is not only inappropriate for children, but it really isn't something that a child would enjoy. I would say this movie seemed geared towards adults and senior citizens because they would relate with the main character, Mrs. Palfrey. At any rate, because of the implied sexual relationship between an unmarried couple, we cannot award this film the Dove Seal.
Info
Company:
Westlake Entertainment Group
Industry Rating:
Not Rated