Against Time
DVD Release:
June 12, 2007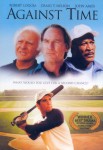 Synopsis
About to finish high school, budding inventor Z.T. dreams of escaping both his sleepy town and his gloomy, widowed dad. But his ambitions get a stunning reality check with the arrival of Zack, a raving, 68-year-old drunk claiming to be the boy's older self. Suspiciously unable to recall the exact details, Zack is desperate to avert a single, tiny mistake he claims sent the rest of his years into a downward spiral!
As the two forge a shaky alliance to piece together the old man's fragile memory, Z.T. deals with pressure from his well-meaning coach and courts a new love, Delena. After a devastating confession from Z.T.'s father, Zack's visit takes on a new gravity. Now one man, split in two by fifty lost years, risks everything to save his future and his past in a perilous race against time.
Dove Review
This film is a movie I would consider more for teenagers in the family. The main character is a 17-year-old boy named Z.T. who learns that his future self has come back to warn him of what is to come of his life. At the end of the film, he learns that the choices he makes can affect the future and that memories are priceless. The movie itself has a positive ending and positive themes and we do award our Dove Seal to it, while encouraging parents to consult the content listing below.
Info
Company:
Westlake Entertainment Group
Industry Rating:
Not Rated