Elizabeth: The Golden Age
Theatrical Release:
October 12, 2007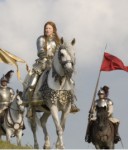 Synopsis
"The Golden Age" finds Queen Elizabeth I (Oscar®-winner Cate Blanchett) facing bloodlust for her throne and familial betrayal. Growing keenly aware of the changing religious and political tides of late 16th century Europe, Elizabeth finds her rule openly challenged by the Spanish King Philip II (Jordi Molla)–with his powerful army and sea-dominating armada–determined to restore England to Catholicism.
Preparing to go to war to defend her empire, Elizabeth struggles to balance ancient royal duties with an unexpected vulnerability in her love for Raleigh. But he remains forbidden for a queen who has sworn body and soul to her country. Unable and unwilling to pursue her love, Elizabeth encourages her favorite lady-in-waiting, Bess (Abbie Cornish), to befriend Raleigh to keep him near. But this strategy forces Elizabeth to observe their growing intimacy.
As she charts her course abroad, her trusted adviser, Sir Francis Walsingham (Academy Award® winner Geoffrey Rush), continues his masterful puppetry of Elizabeth's court at home–and her campaign to solidify absolute power. Through an intricate spy network, Walsingham uncovers an assassination plot that could topple the throne. But as he unmasks traitors that may include Elizabeth's own cousin Mary Stuart (Samantha Morton), he unknowingly sets England up for destruction.
Dove Review
This is the sequel to the film "Elizabeth" and does a beautiful job of dealing with another aspect of this famous queen. While the first film dealt with the young queen's struggle for power, this film deals with her struggle with her sense of self. As a fan of historical dramas, this film does what few others are capable of-making you care about the characters. Cate Blanchett is phenomenal, surpassing her Oscar-winning performance in the previous film. Clive Owens also gives a great performance. The beautiful cinematography was also a very pleasant surprise.
This film was not Dove Family-Approved. Those familiar with the previous film will find that the violence has been stepped up, with many scenes of naval battle featuring bloody injured men as well as scenes of torture in the name of religious freedom. There is also the issue of sex outside of marriage and some strong language.
Info
Company:
Universal Pictures
Writer:
William Nicholson and Michael Hirst