Collier and Co. Hot Pursuit
DVD Release:
August 14, 2007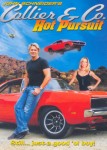 Synopsis
When race driver J.R. Collier tries to save his family from divorce by quitting racing to open up a "used car" business, things begin to get crazy. You see J.R. acquires his inventory by racing unsuspecting marks for their pink slips. J.R,'s latest victim turns out to be a pretty gnarly fellow, with cronies that need their carback ASAP. When they kidnap J.R.'s family as collateral, the race is really on. Can J.R. save the day, his family and his business all in one shot? Hang on for the ride!
Dove Review
I must say that writing, directing, and starring in your own film would be a lot of hard work. This is definitely proven in Collier and Co. Hot Pursuit. I would most certainly have to commend anyone who has done this. The movie itself was slow moving at times and was shot in sort of a grainy home movie sort of way. The acting was a bit amateur. Collier and Co. offered plenty of action-packed scenes; however-nothing very good for family viewing. From betting and gambling, to constant alcohol use and violence, this proved to be something that is not family friendly. The "other" category listed below prevents us from awarding our Dove Seal to this movie as a family-friendly film, as there are several characters in the film who do wrong things and there are no consequences. One character continues running an illegal operation without repercussions. We at Dove cannot award the Dove Seal to this film due to the content.
Info
Company:
Westlake Entertainment Group