For the Love of a Dog
DVD Release:
December 11, 2007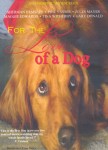 Synopsis
A middle class family, a father in military with three children and wife, have a dog that is a pest to one of their neighbors. The neighbor, labeled as a person nobody really cares for, is not a very friendly guy with the children or their friends because of the experiences with the dog. But the dog gets cancer and the father cannot afford the dog's surgery. The children and friends have a community yard sale to raise the money. Who will help meet the goal?
Dove Review
Based on a true story, "For the Love of a Dog" is a wholesome, family-friendly movie. The story is not as much about a sick dog as it is about family dynamics, respect and personal growth. Some of the acting was a bit exaggerated, but that was mostly done by secondary characters and therefore wasn't too distracting. It was a nice surprise to see Sherman Hemsley (George Jefferson of "The Jeffersons") on the screen with his character once again being a bit of a hot-headed softy.
In the beginning, one of the daughters was pretty disrespectful toward the parents, but by the end of the story it had been resolved. A few derogatory words were used by the teenagers like "shut-up" and "spoiled brat", but overall it was a very clean movie and a pretty good watch. Dove easily awards "For the Love of a Dog" the Dove Family-Approved Seal for family-friendly viewing.
Info
Company:
Magic and Lucky Jonz Prod.
Industry Rating:
Not Rated