Why Did I Get Married?
Theatrical Release:
October 12, 2007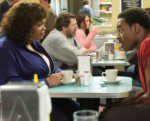 Synopsis
A big-screen adaptation of Perry's hit stage play of the same title, "Why Did I Get Married?" is an intimate story about the difficulty of maintaining a solid love relationship in modern times. During a trip to the picturesque snowcapped mountains of Colorado, eight married college friends have gathered for their annual seven-day reunion. But the cozy mood is shattered when the group comes face-to-face with one pair's infidelity. As secrets are revealed, each couple begins questioning the validity of their own marriage. Over the course of the weekend, husbands and wives take a hard look at their lives, wrestling with issues of commitment, betrayal and forgiveness as they seek a way forward.
Dove Review
When I was asked to review this movie I did not know what to expect. But I have to admit it was more than I had hoped for. I am sure that a lot of people have asked the question that the title reveals from time to time in their lives. Tyler Perry has relayed an interesting story about four couples and the interaction between their lives that answer this question, making the audience laugh and cry through different situations these couples endure.
Also there is a great message at the end of the movie: "There are three things important in a relationship: love God first, love yourself second and then love others." Unfortunately, the movie contains language and content beyond our guidelines to be awarded our Dove Seal as a family-friendly film.
Content Description
Language:
D-8; H-17; A-9; OMG-6; J-3; S-1; Slang words used for a woman with a bad reputation -5 times; B-3