The Nightmare Before Christmas
Theatrical Release:
October 29, 1993
DVD Release:
October 3, 2000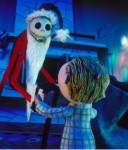 Synopsis
Despite having recently presided over a very successful Halloween, Jack Skellington, aka the Pumpkin King, is bored with his job and feels that life in Halloweenland lacks meaning. Then he stumbles upon Christmastown and promptly decides to make the Yuletide his own.
Dove Review
Tim Burton's dark story, "The Nightmare Before Christmas", incorporates some funny moments and some positive ones, including the ending. Although the film is not gory, it is a dark animated fantasy, made up of such scenes as a character walking around live with an ax in his head, and a stitched-up woman named Sally who pulls her own stitches from her arm. Her arm promptly falls off. This is obviously a total fantasy with Halloween meeting Christmas, and although we do award the film our Dove Seal for ages twelve plus, parents should consult the content chart below. This movie is filled with visually stunning images, such as some of the characters and the Halloween and Christmas Towns. It also has scenes such as a teddy bear being opened up and the stuffing popping out. However, it is quite humorous to hear "Jingle Bells" played as a dirge! The animation is great and, along with the funny moments, takes the viewer out of the ordinary to a land of make believe. Although this film may not be for all tastes, this fantasy does have its dark humor and interesting characters and there are viewers who will enjoy it. And Santa becomes an even bigger hero by film's end.
Content Description
Violence:
A jack-o-lantern swallows fire and is almost consumed before leaping into some water; a guillotine slices a pumpkin head; a character pulls off his own head; a song about kidnapping Santa and chopping him up or beating him up but Santa survives; Santa is held up by a hook at one point; a sleigh is hit with a missile; a snake eats a Christmas tree.
Other:
A few surprises which might frighten younger viewers, such as a creature leaping up unexpectedly from a garbage can; vampires and witches who are just old hags are seen; brains are revealed a few times in the film as characters open up their heads; a woman has her child on a leash; a mention of Satan's spider food; bats are seen flying and a toy duck and a vampire with fangs; a character calls himself a demon of light but he does good in the end.
Info
Company:
Buena Vista Home Video
Writer:
Tim Burton and Michael McDowell
Reviewer:
Edwin L. Carpenter