Homecoming
DVD Release:
July 5, 2005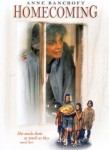 Synopsis
In this heroic odyssey of survival, thirteen-year-old Dicey Tillerman fights to keep her siblings together after she and James, age eleven, Maybeth, nine, and Sammy, only six, are abandoned by their mother in a mall parking lot. In desperation, the kids hide in the woods, cross the Connecticut River in a borrowed dinghy, and sleep in a graveyard, to get to their Aunt Cilla's house—only to learn that she recently passed away. Determined to avoid foster care, the kids strike out for Maryland, where their estranged—and rumored crazy—grandmother Abigail (Anne Bancroft) lives. But once they reach Ab's remote and rundown farmhouse, the kids discover that their grandmother, though unwelcoming, irritable, and even a bit hostile, isn't crazy—she just wants to be left alone.
So begins a sometimes heartbreaking and other times heartwarming struggle between four homeless children looking for their place in the world and an embittered old woman who can't see that she's looking for the very same thing…
Dove Review
Abandoned by their mother in a mall parking lot, with their father long since gone, four young siblings set out on foot to find an aunt whom they never met. Sleeping in parks, backyards of vacant houses, and even a cemetery Dicie, the oldest, does whatever she has to do to keep what's left of their family together. Where did mom go? Will she ever come back? Will they be split up and put into different foster homes? Will they ever find a place to call home and someone to love them?
The acting in the film is wonderful and the characters bring the viewer into their lives, making you feel like you're part of it. We award "Homecoming" five doves.
Info
Company:
Echo Bridge Home Entertainment
Reviewer:
Debbie Berkenpas