Some Things That Stay
DVD Release:
March 20, 2007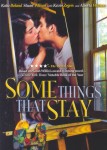 Synopsis
After years of moving, 15-year-old Tamara (Katie Boland, Mount Pleasant) is tired of starting over. When her unconventional family relocates to a conservative country town, she discovers new friends, new romance—and a chance at a normal life. But just as she begins to feel at home, her mother is hospitalized, forcing young Tamara to grow up quickly and find the strength to keep her family from falling apart. Set in rural 1950s America, this luminous coming-of-age story tells a compelling tale of courage, faith, and the incredible power of forgiveness.
Dove Review
In the summer of 1954 the Anderson family moves yet again. But this time, something is definitely different. The place is a big and airy farmhouse with enough bedrooms for everyone to have their own room; there's a cow to be milked and a garden to be tended.
The only neighbors are across the road and Tamara takes an instant liking to Rusty the minute she sees him through the spyglass. The day they meet, Rusty asks for a kiss, which Tamara happily obliges. Rusty and Tamara become very close and start being more than just buddies.
Tamara hears eerie, creaking noises in the attic above her room and wonders what it is. When their mom gets sick and ends up in the hospital Tamara, her brother, Robert, and sister, Megan, have to stay with the neighbors. One morning, all the kids sneak out of the house and down to the creek to go skinny dipping.
Just when they feel like they are all fitting in, Dad announces they are moving again. Mom is very sick and must be moved to a sanatorium in another town. Here they go again. It is refreshing to see a storyline with two parents who love each other and their children. The scenery of being in the country is sweet and very lovely. The film has nice cinematography.
However, we cannot award our Dove Family-Approved Seal to this DVD because of the teen age promiscuity and the language.
Info
Company:
Echo Bridge Home Entertainment
Industry Rating:
Not Rated