The Comebacks
Theatrical Release:
October 19, 2007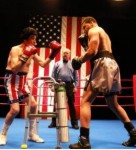 Synopsis
Champ Fields is known as the unluckiest coach in the history of sports. After being forced into an early retirement, he's given one last shot at greatness. Unfortunately, Champ is hired to coach The Comebacks, a talentless, slightly deranged college football team with a laughable roster and an even worse record. Armed with questionable morals, and weak players, Champ sets out to bring this team of losers together and make the impossible happen, win a game.
From the producers of Wedding Crashers, THE COMEBACKS is a comedy that spoofs the best inspirational sports movies ever made. The film stars David Koechner, best known for his role as "Champ" in Anchorman, and Carl Weathers.
THE COMEBACKS spoofs such classic sports movies including Rocky, Remember the Titans, Friday Night Lights, Field of Dreams, Stick It, and Blue Crush just to name a few.
Dove Review
I enjoy watching football and over the years have enjoyed many movies about the game. But this spoof is so stupid that I can't even say it is funny. Don't misunderstand, it does contain some comedic parts but there aren't enough of them to keep you laughing very long. They tried hard to tie in parodies of all the good sports movies to gain a laugh or two here and there but unfortunately they failed to deliver.
This movie was filled with so much content that Dove cannot award our seal to this movie. It is definitely not a wholesome family movie.
Info
Company:
20th Century Fox
Writer:
Ed Yeager and Joey Gutierrez