Things We Lost in the Fire
Theatrical Release:
October 19, 2007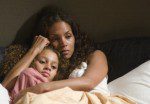 Synopsis
After an unspeakable tragedy, two people get a second chance at life in "Things We Lost in the Fire." When Audrey Burke (Halle Berry) loses her husband in an act of random violence, she forges an unlikely relationship with Jerry Sunborne (Benicio Del Toro), her husband's best friend from childhood. Jerry is a heroin user; his addiction has destroyed everything that was once important to him. As Audrey discovers that Jerry is the only person who can help her survive her loss, Jerry finds the strength to overcome his own problems. Acclaimed Danish director Susanne Bier helms.
Dove Review
This film chronicles the journey of a recent widow and a man trying to kick heroin. The film will strike a chord with those who have experienced these topics first hand. The children in the film are wonderful but the adult's acting leaves something to be desired. The film plods along at a slow pace.
This film was not Dove Family-Approved. There are many scenes involving drugs, such as someone who was high, or someone using, or someone contemplating using. There is also usage of foul language throughout and an intimate scene involving a married couple. The violence is not gory but some blood was shown. For the aforementioned reasons, we cannot award our Dove Seal to this film.
Content Description
Sex:
Married couple involved in foreplay and kissing. A few of the scenes are rather graphic regarding where hands are placed.
Drugs:
Smoking throughout; drinking; multiple scenes showing drugs; explicit scene with drug use; multiple portrayals of person high on drugs.
Nudity:
Two instances of man shirtless; children in swimsuits; woman in bikini; man in bathing suit.