Into the Wild
Theatrical Release:
October 19, 2007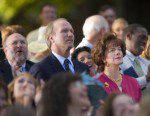 Synopsis
Freshly graduated from college with a promising future ahead, 22 year-old Christopher McCandless (EMILE HIRSCH) instead walked out of his privileged life and into the wild in search of adventure. What happened to him on the way transformed this young wanderer into an enduring symbol for countless people. Was Christopher McCandless a heroic adventurer or a naïve idealist, a rebellious 1990s Thoreau or another lost American son, a fearless risk-taker or a tragic figure who wrestled with the precarious balance between man and nature?
Each strand of his journey is woven into Sean Penn's screen adaptation of Jon Krakauer's acclaimed bestseller, Into the Wild, which is as much about the insatiable yearning for family, home and connection as it is the search for truth and happiness.
McCandless' quest took him from the wheat fields of South Dakota to a renegade trip down the Colorado River to the non-conformists' refuge of Slab City, California, and beyond. Along the way, he encountered a series of colorful characters at the very edges of American society who shaped his understanding of life and whose lives he, in turn, changed. In the end, he tested himself by heading alone into the wilds of the great North, where everything he had seen and learned and felt came to a head in ways he never could have expected.
Dove Review
In this compelling and rather inspiring adventure, the main character decides to completely leave all of his belongings, money, and family to discover himself and his happiness. The movie is well done and showcased many of the agonizing and amazing things that Christopher, aka "Alexander Supertramp", went through. He learns many lessons on the way to discovering himself and comes to the realization that happiness is only real when shared. Unfortunately, as moving as this film is, due to the excessive language and multiple depictions of nudity, and pre-marital sex, it is not a family-friendly film and cannot be awarded the Dove Seal.
Info
Company:
Paramount Vantage
Writer:
Jon Krakauer and Sean Penn