Dan in Real Life
Theatrical Release:
October 26, 2007
DVD Release:
March 11, 2008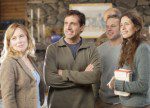 Synopsis
A conflicted romance collides head-on into the perils of family relations with fun-filled results in Peter Hedges' fresh, clever and hilarious take on the slice-of-life comedy. Comic sensation Steve Carell stars as an ordinary guy who accidentally stumbles out of his "play-it-safe" life into the exhilarating world of the unexpected when he falls in love on what was supposed to be a family getaway. Starring alongside stand-up star Dane Cook and Academy Award winner Juliette Binoche, Carell is about to discover a family weekend of chaos, confusion, awkwardness — and ultimately, his entire family's extraordinary capacity for love in the face of left-field surprises.
It all begins when widowed father and family advice columnist Dan Burns (Carell), who is still reeling from the heartache of loss, tries to maintain order with his three rebellious young girls while dodging anything unexpected. But when Dan heads to Rhode Island, his miffed daughters in tow, for the annual Fall weekend thrown by the large and boisterous Burns family, everything changes. Soon after his arrival, he runs into an alluring woman named Marie (Binoche) in a bookshop. For the first time in a very, very long time, Dan experiences real, live sparks — only to have to douse them liberally when he discovers Marie is, in fact, the new girlfriend his brother Mitch (Cook) is about to proudly introduce to the family.
Dove Review
"Dan in Real Life" is a laugh-out-loud comedy! This film is consistently funny and should propel Steve Carell further up the Hollywood ladder of success. He plays Dan Burns, a widower raising three daughters. The daughters alone set up some potentially humorous moments as one is seventeen and pushing her father to let her drive. The middle daughter believes she is in love with a boy and that her father simply doesn't understand that it is the "real" thing. This sets up a great scene as the boy comes to visit, and when Dan answers the door, the boy explains he is there to see Dan's daughter. When Dan learns it is the middle daughter and not the oldest, he says, "Come back in two years!" and closes the door. The youngest daughter is cute as a button and sincere in her devotion to her father.
The real laugh-out-loud moments, and there are many, stem from Dan and Marie (Juliette Binoche) falling for one another, only to learn that the man Marie has just begun a relationship with is Dan's brother, Mitch (Dane Cook). Dan's determination to remain loyal to his brother conflicts with his interest in Marie, and his attempt to hide his frustration, as well as Steve Carell's great facial expressions, make for some great comedy. We award our Dove "Family-Approved" Seal to this movie with one warning: be ready to laugh a lot. As you can read below, there are some minor content issues, but we award this funny and well-made film five out of five doves, our highest rating.
Info
Company:
Buena Vista Home Video
Writer:
Pierce Gardner and Peter Hedges
Reviewer:
Edwin L. Carpenter