Saw lV
Theatrical Release:
October 26, 2007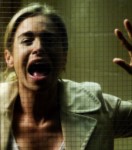 Synopsis
Jigsaw and his apprentice Amanda are dead.
Now, upon the news of Detective Kerry's murder, two seasoned FBI profilers, Agent Strahm and Agent Perez, arrive in the terrified community to assist the veteran Detective Hoffman in sifting through Jigsaw's latest grizzly remains and piecing together the puzzle.
However, when SWAT Commander Rigg is abducted and thrust into a game, the last officer untouched by Jigsaw has but ninety minutes to overcome a series of demented traps and save an old friend or face the deadly consequences.
Dove Review
Before viewing this film, I knew exactly what to expect, or so I thought. The movie is most certainly a horrifically gruesome and gory addition to the three predecessors before it. The movie is rated R, but I saw things I had never seen before. After seeing this film, I am confident in knowing exactly how much the human body can endure in torture. I also feel like I was given an anatomy lesson without having to go to an actual mortuary. The movie did explain a lot of unknown things that the first three movies didn't. The movie is left open ended, which reveals that a fifth movie will soon surface.
Obviously, we cannot award our Dove Seal to this movie as a family-friendly picture.
Info
Writer:
Patrick Melton and Marcus Dunstan