The Berenstain Bears: Bears Team Up!
DVD Release:
November 1, 2007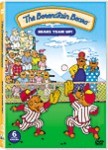 Synopsis
At school, at home, and at play, the Bears learn that working together makes everything better. "Bears Team Up!" features the following six episodes: Out for the Team; The in Crowd; Fly It; Mama's New Job; Too Small for the Team; and Lost in a Cave.
Dove Review
The beloved children's books come to life in this wonderful DVD filled with six fun episodes. One of the unique features to each of these stories is a short poem at the beginning to give a heads-up as to the lesson that will be taught. Brother and Sister Bear, although cartoons, are great examples to kids as they encourage each other, talk respectfully and are kind.
The lessons taught are very practical and are even great reminders for adults. A few of these include: working hard for a goal, being yourself even when it's hard, dealing with change and facing fears. It's a wonderful DVD for the entire family, "The Berenstain Bears: Bears Team Up" easily earns the Dove Seal for family-friendly viewing!