Obara and the Merchants
Theatrical Release:
March 1, 2007
DVD Release:
March 1, 2007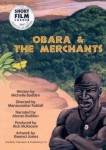 Synopsis
When his village suffers from famine, and the people have given up after a hunger filled hunt, Obara the hunter is finally able to make a delicious stew! But is there enough to share with the hungry merchants who are coming up the path? Find out in this terrific DVD!
Dove Review
This short is illustrated with great drawings and paintings and appropriate music is added. The story is about Obara, a hunter who lives in Africa during a lean time and he is hoping to catch some food. When he finally does, and makes a stew, some merchants follow the scent of the stew to his home and ask if they can dine with him. He allows them to and they enjoy each other's company. When they offer him pumpkins for his kindness, he finds that there is more to the pumpkins than meets the eye, and that kindness is always rewarded in one way or another. We happily award our Dove Seal to this short video and do so for all ages.
Info
Company:
Kool Kidz TV and Pub
Industry Rating:
Not Rated
Starring:
Voice by Alonzo Bodden
Reviewer:
Edwin L. Carpenter