Enchanted
Theatrical Release:
November 21, 2007
DVD Release:
March 18, 2008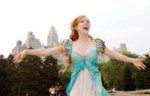 Synopsis
A classic Disney animated fairy tale meets with the modern, live-action romantic comedy in Walt Disney Pictures' "Enchanted." Featuring an all-star cast, the film follows the beautiful princess Giselle (Amy Adams) as she is banished by an evil queen (Susan Sarandon) from her magical, musical animated land and finds herself in the gritty reality of the streets of modern-day Manhattan. Shocked by this strange new environment that doesn't operate on a "happily ever after" basis, Giselle is now adrift in a chaotic world badly in need of enchantment. But when Giselle begins to fall in love with a charmingly flawed divorce lawyer (Patrick Dempsey) who has come to her aid — even though she is already promised to a perfect fairy tale prince (James Marsden) back home – she has to wonder: can a storybook view of romance survive in the real world?
Dove Review
"Enchanted" is a fun-filled family fantasy! The opening scenes with 2-D animation are exquisitely rendered in true Disney fashion and reminiscent of earlier Disney "Princess" movies. Princess Giselle, a cross between Cinderella and Sleeping Beauty, is well drawn by the Disney animation team, and enchantingly played in "real life" by singer/actress Amy Adams.
The music, written by Alan Menken and Stephen Schwartz, is wonderfully produced and ably performed by Adams and James Marsden (Prince Edward). A special song was written for the movie and sung by American Idol winner and Country recording sensation Carrie Underwood. Even Patrick Dempsey sings a phrase or two. There are several clever references to past animated Disney characters, including a fun poke at a well-known non-Disney animated troll.
While this movie is targeted at the younger set, there are many humorous bits that adults will appreciate, like the line, "This credit card is even better than a Fairy Godmother!" or, Giselle mistaking an angry "little person" in Manhattan for Snow White's Grumpy.
Parents should note that Enchanted is Rated PG for some scary images and mild innuendo. There is a fair amount of peril and jeopardy that when portrayed in live action is more intense than it would be if animated. For example, there's a very scary live action scene with a dragon that is reminiscent of similar scenes in Harry Potter and King Kong. There is also more cleavage than one would expect in a children's film. Dove has awarded the Family-Approved Seal for any age, but I encourage parents with children under the age of 8 to carefully read the content descriptions below before deciding whether to bring their toddlers.
Info
Reviewer:
Edwin L. Carpenter