Once in a Blue Moon
Theatrical Release:
December 1, 1995
DVD Release:
November 1, 2007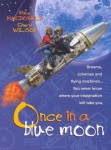 Synopsis
The Year is 1967. Rocket ships fuel the imaginations of all kids, including nine-year-old Peter Piper – a boy who knows much more about the world now than he will when he grows up. Forced to wear girls' hand-me-downs and bullied by the neighborhood boys, Peter inhabits a more humane world of monsters, vampires and Martians – a world where young boys can rocket to the moon.
In need of a foster family, ten-year-old Native Sam comes to stay with the Pipers. Kindred spirits by nature, friends out of need, Peter and Sam set out to silence the taunts of their tormentors. They will build a rocket and make it fly, transporting us into the secret world of imagination.
Dove Review
Hold on to your helmets because "Once in a Blue Moon" will take you for a ride! The movie has an unusual and somewhat hectic feel to it as the story travels back and forth between reality and the imagination of the main character. Because of this, it seems a little hard to follow at times. But, if you hang in there, you will find that it is actually a wonderful story of a hurting family that is simply struggling to get through life and overcome individual pain.
There is great camera work in this film which adds to the interest factor. The at times chaotic pace of this family and the number of people living in the home leads to quite a bit of yelling, including numerous "stupids," "shut-ups" and other not-so-kind words such as butt head and retard. Thankfully, the oldest sister adds a wonderfully calming effect on the household.
"Once in a Blue Moon," a uniquely interesting movie, earns the Dove Seal for family-friendly viewing.
Info
Company:
Brainstorm Media
Starring:
Cody Serpa
,
Simon Baker
,
Deanna Milligan
,
Mike MacDonald
,
Cheryl Wilson
,
Amber Warnat
,
Elysa Hogg
,
Scott Augustine
,
Tyler Jay
,
Justin Wilkie
,
Rhys Huber