The Good Witch
Network Premier:
January 19, 2008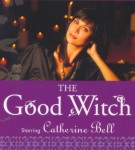 Synopsis
A Hallmark Channel Original Movie stars Catherine Bell as Cassie Nightingale, the enchanting new resident of a cozy little community. She moves into the supposedly-haunted Grey House and opens Bell, Book and Candle, a curiosity shop filled with candles, oils and enticing scents. Although the local police chief and his children are charmed by her ways, it may take a little magic to win over some of her more ardent opponents.
Dove Review
Hallmark scores again with this wonderful presentation of "The Good Witch." Cassie moves into the "haunted" house of the neighborhood and this story keeps you guessing if she is a witch, as some people assume, or just the mysterious new girl in town. The assumption that Cassie is a witch comes because of the good things that happen when numerous people follow her advice. The movie keeps you wondering until the end if she is magical or simply a student of human behavior. In the end, the latter is proven…or is it?
This is a refreshingly clean movie with only mild content such as low-cut shirts, drinks over dinner, and a couple that kisses two times. "The Good Witch" is a fantasy film and does not encourage occult practices. It earns the Dove Seal for family-friendly viewing and is recommended for ages twelve plus due to the mature themes.
Info
Company:
Hallmark Channel
Industry Rating:
Not Rated